02.09.2010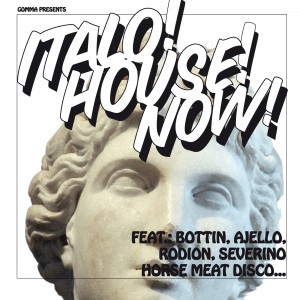 Release: 3 September 2010
Cat#: Gomma 143
The much talked about new wave of fresh & innovative Italian house music producer scene. First time on one compilation.Gomma presents a collection that features 8 unreleased tracks by all the new young Italian house & disco producer kids. Yeah! Italo! House! Now!, compiled by Munk will be out soon.
For now we release a 4 track Vinyl and digital pre – release E.P. with four unreleased tracks by Bottin, Rodion, Ajello and Severino – the Italian boy from Horse Meat Disco.
Four more tracks by The Barking Dogs feat. Hard Ton, Cécile, Telespazio, and Alan1 are on the full compilation, due out on Monday next week.
Aeroplane: "I really like !! will play it!
Jerry Bouthier: "Great! I love!"
James Friedman: "Really dig the Ajello tune."
Acid Washed: "Yeah, this is tight mates. Ready to rocks the dancefloor!"
Cassian: "Love it! Bounce is my favourite. "
The C-90s: "Man this is soooooo killlller!!!"