About Gomma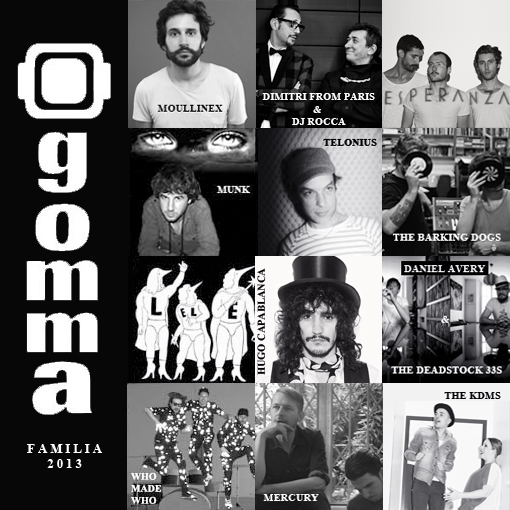 Some nice words from the press:
THE NME: "Gomma is like the German DFA".
DAZED & CONFUSED: " Germany's freshest label!"
Pitchfork: "… along with Kompakt and Get Physical Gomma by now is one of the three leading electronic music labels in Germany."
Hi friends, thanks for liking Gomma. We are a music (and graphic) collective. Based in Munich and led by Mathias Modica (aka Munk). The Gomma crew consists of musicians, DJs, bands, graphic designers from Germany, France, Italy, UK, Denmark and the USA.
Gomma is part of this new, little scene of labels who are crossing between club music, independent art and alternative fashion. DFA Records in New York, Kitsune and Ed Banger in Paris, Modular in Australia… different music, but similar ideas. Releasing not only new music, but creating fresh things in pop culture.
At Gomma we try to develop some different eclectic musical languages –- mixing electronic production and "real" instruments. Combining 70ies disco and psychedelic sounds with 90ies Techno, Electronica, House and Indie Pop. Always trying to stay away from the latest trends but inventing new ideas in music.
Gomma releases the music of Munk, Telonius, Daniel Avery & Justin Robertson, The Deadstock 33s, Moullinex, Mercury, Esperanza, The Barking Dogs, Hugo Capablanca, Whomadewho, The KDMS, The Phenomenal Handclap Band, and many more.
Besides the musical output, we produce t-shirts and published an illustration magazine called Amore magazine.
Apart from our artists constantly at clubs and festivals all around the world, we did a lot of visuals happenings that we called the MondoGomma Pictureshows. They took place in galleries in Stockholm, Berlin, Barcelona, Los Angeles, and Tokyo. Including works from Gomma-releated artists such as Thomas Kartsolis & Mirko Borsche aka Smal & Paze. Then Michael Sailstorfer, Micha Hollenbach from P.A.M., The Rammellzee, Sarah Illenberger, Daniel Josefsohn, Kostas Murkudis, Martin Fengel and others.
Gomma has been doing events with and at Haus der Kunst (München), Heimat als Utopie – Happening in Tokyo 2006 (curated by 032c magazine). V Magazine Fanzine Show (New York 2010), several events of French fashion companies (Surface to Air, Chanel, Givenchy, the Colette Shop, Kostas Murkudis, Neil Barrett) and magazines such as Vice, i-D, Interview, Dazed & Confused etc etc…, Sonar Festival, Melt Festival, events at Paris, Milan and New York Fashion Week, and of course a lot of parties in Munich, Berlin and all around the world…
################################################################
################################################################
The ever growing list of guest artists and contributors on Gomma:
80Kidz, Ajello, Alan1, Anthony Mansfield, Artur8, Alexander Robotnick, Asia Argento, Audiojack, Autokratz, Azari & III, Baby G, Bag Raiders, Baldelli, Ben Mono, Ben Rhymer, Benny Röder, Black Strobe, Bloody Beetroots, Bobermann, Bobby Conn, Bostro Pesopeo, Bottin, Box Codax, Busy P, Cassian, Cecile, Chicken Lips, Chicks On Speed, Christopher Just, Clock Opera, Copyshop, Cosmo Vitelli, Crookers, Cut Copy, Daniel Josefsohn, David E. Sugar, David Evangelos, Den Haan, Death Comet Crew, DFA, Die Sterne, Digitalism, Dionogi, Dirt Crew, Discodeine, Diskokaine, DJ Chloe, DJ Funk, DJ Koze, DJ Loda, DJ Naughty, Don Cash, Drrtyhaze, Ed Banger All Stars, Fabrizio Mammarella, Feyd, Francisco, Fred Berthet, Fujiya & Miyagi, Funkstörung, Golden Bug, Hard Ton, Headman, Herr Styler, Hiltmeyer Inc., Horse Meat Disco, Hot Chip, Hugo Capablanca, Hugo Sanchez, Ian Pooley, Ilya Santana, In Flagranti, Jack Tennis, Jacques Lu Cont, James Murphy, Jean-Michel Basquiat, Jim Jarmusch, Junior Boys, K-Rob, Kamerakino, Kaos, Kasper Björke, Kathy Diamond, Kill The Noise, Kill The Tills, KIM, King Of Kong, Klaus Lemke, Kostas Murkudis, Lazersonic, LCD Soundsystem, Le Le, Leroy Hanghofer, Lipelis, Lorenz Rhode, Louie Austen, Luc Miles, L.U.C.A., Lützenkirchen, Manuel Kim, Manuel Werner, Marc4Ostia, Maral Salmassi, Marco Passarani, Martin Brodin, Martin Fengel, Matt Safer, Max Pask, Maximilian Skiba, Mercury, Metronomy, Michael Sailstorfer, Micky Moonlight, Midnight Mike, Migumatix, Mike Monday, Misha Hollenbach, Mock & Toof, Mocky, Modernaire, Mooner, Moullinex, Munk, Mustang, Mustapha 3000, Muzzle Flash, Naum Gabo, Nick Chacona, NickMcCarthy (Franz Ferdinand), Nicky Siano, Noze, Oblio, Oliver Koletzki, Parra, Paul Mogg, P.A.M., Patrick Pulsinger, Pete Herbert, Pilooski, Playgroup, Poets of Rhythm, Poney Poney, Princess Superstar, Prins Thomas, Protein, Publicist, Ray Mang, Reverso 68, Rimer London, Rodion, Round Table Knights, Rove Dogs, Severino Horse Meat Disco, Sexual Harrassment, Seymour Bits, Shazam, Shir Khan, Shit Robot, Simon Owens, Siriusmo, SmalPaze, So Me, Soulwax, Stallions, Starter, Superdiscount, Telonius, Telespazio, The Amazing Clay, The Barking Dogs, The Glimmers, The Juan Maclean, The KDMS, The Mole, The Phenomenal Handclap Band, The Rammellzee, The Rapture, The Twelves, Tiago, Tom Trago, Tomboy, Tomski & Fredboy, Trans Mania, Trentemöller, Trevor Jackson, Tristan da Cunha, Tronik Youth, Vincent Gallo, Virgil Howe, WhoMadeWho, Xinobi, Zombie Nation, Zongamin.