02.05.2016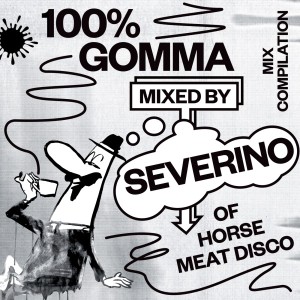 HORSE MEAT DISCO are steady supporters of Gomma since a long time. The 100% Gomma series invites friends of the label to do a own selection of the Gomma catalogue. In form of a DJ MIX and a compilation. Caused to the great spectrum of music that has been released on Gomma and sublabel Toy Tonics every mix creates a complete different perspective on the German label's catalogue.
The last mix (2013) came courtesy of JACQUES RENAULT. He created a cosmic- Balearic selection. His compilation has been no.1 of JUNO Download house albums charts for six weeks. The new one by SEVERINO – worldwide respected Italian super selector and main music man of Horse Meat Disco used some of the more energetic tracks of the catalogue: Luke Solomon, Morgan Geist, DJ Kaos, Dimitri From Paris & DJ Rocca, Munk, Hess Is More, and many more
A great mix. With a lot of new tracks but also 40% stuff from before 3 years – that still sound fresh.
Severino is almost a legend. A DJ's DJ – with a big worldwide fanbase. The superfriendly and über-expert dude from The Horse Meat Disco crew.
Originally from Mantua, Italy he came to London in the 1990ies starting to run the Happy Families partys in Shoreditch with ex-Jockey Slut editor Rob Wood, Michael Morley and Mark James. Later residency at Fabric. Later the Horse Meat Disco crew caught wind of Severino's unsurpassed vinyl knowledge making him a resident DJ and an essential member of the HMD quartet.
Severino is trusted and loved by lovers of real housemusic all around the world. He has remixed artists such as Roisin Murphy, Basement Jaxx, Billie Ray Martin, Alison Moyet, Tracey Thorn, and Yoko Ono, as well as recent collaborations with Acid House legend Terry Farley. He has complied various albums including Classic's Through The Eyes Of Severino and the Horse Meat Disco series out on Strut/K7!

Get it on Juno Download