24.08.2016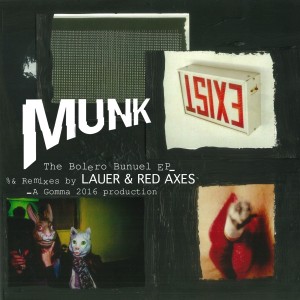 The last two Munk releases (on Correspondant and Local Talk) already showed the new side of Mathias Modica's musical output.
Instrumental, hypnotic, yet funky and tribal mid tempo tracks with almost no vocals.
Now Mr. Munk takes it a few steps further. He is flying his Techno into a Sun Ra Space. "The Bolero Bunuel" is based on a jazzfunk bassline and some live drumming. The melodies remind of some strange arabian sci-fi things. "The Naked Baam" reminds of the first Motorbass tracks, back from Paris 1995. Filterfunk! "The Oboe Onyx" – Boards of Canada could have been somewhere in the studio when this was made. The beat is weird… not quantized. The classical instruments and melodic lines remind of some compositions of late Ligeti or P‰rt. This new Munk EP comes out with Remixes from Lauer and Red Axes.
Buy on Beatport: https://www.beatport.com/release/the-bolero-bunuel-ep/1780477