26.11.2007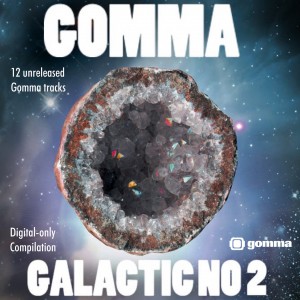 Release: 26 November 2007
Cat#: Gomma 096
Gomma Galactic No 2 is the second digital compilation with new, unreleased music by Gomma artists and friends.
Cosmic Legend DJ BALDELLI, WHOMADEWHO, MUNK, TOMBOY, OBLIO (aka IN FLAGRANTI),DRRTYHAZE and the crazy DISKOKAINE – they all have made exclusive tracks for this second part of GOMMAs digital only compilation. 13 dirty instrumental tracks which go far beyond the current disco reality.
WhoMadeWho replay VILLALOBOS hit single EASY LEE in a Grungefunk vibe and Baldelli brings some crazy Balinese xylophones into his heroin disco and IN FLAGRANTI aka OBLIO with a tribute to late seventies electronic music that came out of Germany in the 70ies.
Tracklist:


1) Baldelli – Xilodelphia


2) Whomadewho – Easy Lee (live)


3) Drrtyhaze – Satisfaction


4) Rodion – La Prova Col Vocoder


5) Tomboy – One Week Of Bending


6) Munk – Under Control (Dub version)


7) Hiltmeyer Inc – iTune aLine


8) Oblio – Orgazmo


9) Rodion – Salvelox


10) Golden Bug – Golden Bullet


11) Diskokaine – Riminini


12) Oblio – Innercity