07.07.2010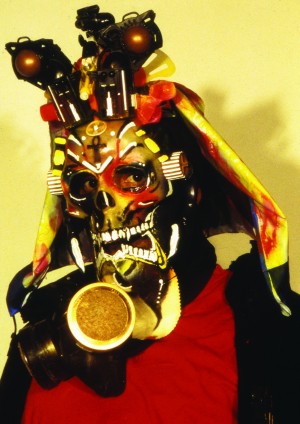 One of our all time heroes The Rammellzee died last week. Rammellzee was one of the coolest guys of New York's late 70ies and 80ies street art scene. He was a pioneer of Graffiti in the streets of New York and also one of the first dudes in Hip Hop culture. He wasn't stuck in cliches as so many others in the Hip Hop world. No: Rammellzee always was interested in creating new things. So he brought spray art into a new level. Yes: He created his own world: Gothic Futurism. Consisting of crazy crazy muppets. Robots. Spaceships. An own language. Yes, a whole universe. For more then 30 years he just worked on this idea.
In 2002 Mathias and Jonas (Munk & Telonius) – our Gomma bosses met him in New York. He was looking for somebody who was young and would produce a soundtrack for his Gothic Futurism world. For over one year they worked on the 12 songs that late came out as "The Bi-conicals of The Rammellzee". Stuart Argabright from Death Comet Crew, Tim Sweeney and others helped to create this crazy album.
Gomma is very sad. A great inspiration left the world. The Rammellzee R.I.P. …you were great, man!
Also here are 2 songs from the album.
Download: The Rammellzee – Cheesy Lipstick
Download: The Rammellzee – Sigma 1