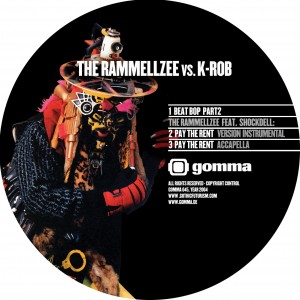 Release: 9 February 2004
Cat#: Gomma 045
Lots of people call The Rammellzee "the godfather of street-art". Having started his career back in NYC in the late 70ies as a kid, he was featured in many of the famous Graffiti & Street art films of the Hip Hop period ("Wildstyle"). Later he had appeariances in films by Jim Jarmusch and Schnabel's "Basquiat" movie. In fact the Rammellzee was part of the original NYC – underground art bunch around Jean – Michel Basquiat, Phase 2 etc. But he did not disappear. In the 90ies he went on developing his own special unverse called "Gothic Futurism" (check: WWW. Gothic-Futurism.com) inventing absurd skateboard – figures ("letterracers") and crazy muppets.
Pay The Rent features legendary NYC rapper Shockdell. The flipside Beatbop Part 2 (incl. NYC-rapper K–ROB) is the followup single to Beat Bop Part 1, a track that the Rammellzee did with K–ROB and Jean Michel Basquiat back in the 80ies and that has been called by many Hip Hop heads "one of the most important rap tracks ever".
Tracklist:


A1) Rammellzee – Pay The Rent (Original)


A2) Rammellzee – Pay The Rent (Version)


A3) Rammellzee – Pay The Rent (Instrumental)


B1) Rammellzee – Beat Bop Pt. 2


B2) Rammellzee – Pay The Rent (Version instr.)


B3) Rammellzee – Pay The Rent (Acapella)

Gomma Releases

,

The Rammellzee

. Tags:

Jaws

,

K-Rob

,

Shockdell

,

The Rammellzee

09.02.2004