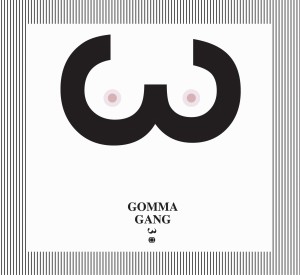 Release: 24 January 2006
Cat#: Gomma 070 CD
This is the third MIX CD with music from the Gomma label. It includes underground club hits, remixes and unreleased songs from the last two years. New tracks by Gomma acts Headman, WhoMadeWho and Munk and (vocal & remix) contributions by friends of the label like The Rapture, DJ Chloe, Midnight Mike, Berlin's Dirt Crew and James Murphy (LCD Soundsystem). Most of it had so far been only released on vinyl, but it would be a shame to hide these little hits from the CD listeners.
The complilation shows the more "clubby" side of the Gommalabel. It was mixed by the MUNK boys (Mathias Modica and Jonas Imbery) – the same two guys who released the much acclaimed APERITIVO album two years ago and are also the men behind the small, but always innovative german label. Along with Output, Tigersushi, Kitsune and DFA, Gomma is part of this new generation of companys who started to develop their very own new sound – somewhere in between disco, electronic and post rock.
Tracklist:
1) Headman – Rong Hands (Dub Version)
2) Munk – Disco Clown (Midnight Mike's 128 BPM Remix)
3) Tomboy – Finale
4) Whomadewho – Space For Rent (Dirt Crew Remix)
5) Hiltmeyer Inc. – Finalahh (Nicky Remix)
6) Midnight Mike – Hot In The Kitchen
7) Tomboy – Black Beauty
8) Munk & Chloe – Ce Kul (Francisco Remix)
9) Tomboy – Maggie & Samira
10) Whomadewho – Satisfaction
11) The Rammellzee – Cheesy Lipstick
12) Munk & James Murphy – Kick Out The Chairs (WhoMadeWho Version)
13) Hiltmeyer Inc. – Chefsong
14) Whomadewho – Space For Rent (The Rapture's Hushhush Version)

Listen to the MegaMedley

Compilations

,

Gomma Releases

. Tags:

Dirt Crew

,

DJ Chloe

,

Francisco

,

Headman

,

Hiltmeyer Inc.

,

James Murphy

,

Midnight Mike

,

Munk

,

The Rammellzee

,

The Rapture

,

Tomboy

,

WhoMadeWho

24.01.2006