Important info
Gomma currently is on holiday!
Since 2016 we stopped our activities and started 2 other labels:
Toy Tonics
&
Kryptox
.
Gomma history
Gomma was born in 2000.
Created, curated and directed by
Mathias "Munk" Modica
and Jonas Imbery, who later left the label.
Art direction by
Mirko Borsche & Thomas Kartsolis
aka Smal & Paze.
Music:
We released indie disco, new wave funk, weird pop & experimental electronica by artists like
WhoMadeWho, Munk, Headman, The Phenomenal Handclap Band, Moullinex, Mocky, Daniel Avery, Dimitri from Paris, Lele (aka Parra), Tomas "Tomboy" Barfod, Box Codax
(Franz Ferdinand side project) and others.
Munk/ Gomma also produced music for/ with
James Murphy, Asia Argento, The Rammellzee, Peaches, Nancy Whang
(LCD Soundsystem)…
We curated compilations dedicated to
New Wave Funk & Post Rock
: ANTI NY (2001) and TEUTONIK DISASTER (2004)
Art & Graphics:
We made art and visual projects, published the graphic magazine
Amore
and curated exhibitions in galleries around the world.
Gomma retrospectives have taken place in Munich (Haus der Kunst), Stockholm (Beneath gallery), Berlin (Circle Culture), Tokio (with 032C magazine) and other cities.
Amore Mag
contributions by:
P.A.M. , Daniel Josefsohn, Kostas Murkudis, Parra, Nevin Adadalg, Michael Sailsdorfer, Martin Fengel
Fashion:
We produced over 50 different limited editon design shirts.
Designed by Mirko Borsche, Thomas Kartsolis, P.A.M., Kostas Murkudis, Mathias Modica.
We made music for shows, events and campaigns of fashionbrands such as
Margiela, Wood Wood, Surface to Air, Chanel
and worked for Parisian fashion institution
Colette
.
Thanks for your attention. You can still contact us at gomma [at] gomma [.] de
Please follow our new adventures with
TOY TONICS & KRYPTOX.
Press quotes:
"Gomma is the freshest and most intersting German record label." (Dazed & Confused/ UK)
"Like a German DFA." (NME/ UK)
"Always ahead of it's time, with an unique approch that make the imprint oustanding" (The Wire)
ARCHIVE
13.12.2001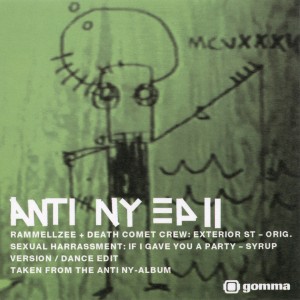 Release: 13 December 2001
Cat#: Gomma 016
Tracklist:


A) Death Comet Crew – Exterior St.


B) Sexual Harrassment – If I Gave You A Party (Syrup Version Dance Edit)
01.10.2001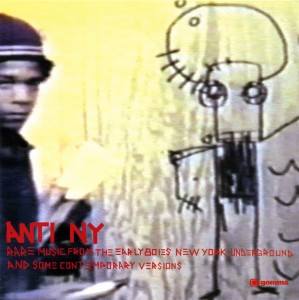 Release: October / 2001
Cat#: Gomma 013 CD
Rare music from the early 80's New York underground and some contemporary reinterpretations.
It took us over three years to finish this compilation. The first time we spoke to Michael Holman (former partner of Jean-Michel Basquiat and Vincent Gallo, promoter of the first hip hop shows in New York) was in 1997. He offered us to release the only (and yet unreleased) song of Basquiat's band Gray that was ever recorded.
At the time, we were already planning to release a compilation with early 80's No Wave & Boogie. So we decided to combine both things and came up with a collection of tunes mainly from New York's early 80's downtown art & music scene – mostly bands that had a connection with the Mudd Club.
Mudd Club was the place to be in New York's early 80's nightlife. After The Loft and Studio 54, it was here where Eno & Bowie, Gallo, Basquiat and lots of other innovative young guys from the art/fashion/music scene lost their nights.
Mudd Club was the place where Japanese designer talents like Yamamoto & Myake met young artists such as Futura 2000, Keith Haring and others. Live shows by Jim Jarmusch's band The Del-Byzanteens or Vincent Gallo jamming with Gray were a standard act at the Mudd. Gray was the musical art-noise project of artists Jean-Michel Basquiat and Michael Holman.
Holman also was the main collaborateur on this compilation. Check his original photos on the artwork. This man was the capo: producer of the first ever hip hop tv-shows graffiti rock & beatstreet, promoter of the first hip hop parties outside the Bronx and superhero of the Beastie Boys and all other rap aficionados.
We also worked with Steve Mass, former owner and promoter of the Mudd Club. Together with him and other original band members like Jonny Sender of Kong and Justin'time (co-founder of Vince Gallo's band Bohawk), Munk & Gomma compiled the album. Steve Mass also wrote the liner notes for the compilation.
We made a collection of what we think are some very fine songs. Hip hop & graffiti – legend The Rammellzee on a trash-electro tune with Death Comet Crew (later they were called The Dominatrix and were sampled by the likes of DJ Hell and Terranova). An ultrarare recording of Jim Jarmusch that sound like a cool Beck – song. The only recorded and never released music by Jean-Michel Basquiat. A sweet little song by now very known writer Vivian Goldman and much more.
But gomma isn't a retro label. Most of the styles – music, fashion, art – from those days are the fundament of now – culture. So we took the originators stuff and asked some friends to reinterpretate them.
Compost band Syrup replayed the Sexual Harrassment tune. Funkstörung goes electroboogie with Ike Yard. Protein makes Rammellzee sound like it's 2010…
Tracklist:


1. Vivien Goldman – Launderette


2. Sexual Harrassment – If I Gave You A Party


3. Gray – Drum Mode


4. Konk – Love Attack


5. The Del/Byzanteens – Girl's Imagination


6. Ike Yard – N.C.R.


7. Death Comet Crew – Exterior St.


8. Gray – Drum Mode (Paul Mogg Version)


9. Vivian Goldman – Launderette (Munk Version)


10. Sexual Harrassment – If I Gave You Party (Syrup Version)


11. Death Comet Crew – Exterior St. (Protein Version)


12. Ike Yard – N.C.R. (Funkstörung Version)
10.09.2001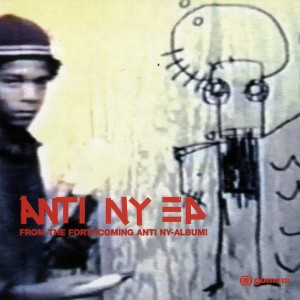 Release: 10 September 2001
Cat#: Gomma 015
This ANTI NY – EP nr.1 is a teaser to the ANTI NY – album that will be released on CD & vinyl in late sept/ early okt 2001. ANTI NY is a collection of early 80ies music from New York's folk-funk-punk-disco-hip hop underground with some fresh remixes:
The hole collection was compiled and arranged by Munich's producer team MUNK. On the album there will be original music by JEAN – MICHEL BASQUIAT, RAMMELLZEE, KONK and other cool, folky & danceable tracks from the 80ies. Also reworks by SYRUP (COMPOST), FUNKSTÖRUNG, THE PSYCHONAUTS (MOWAX), MUNK and others.
This ANTI NY – ep features the maybe most dancable tune that FUNKSTÖRUNG ever did: They reworked N.C.R. by new york 80ies no wave band IKE YARD (Ike Yard later recorded as DOMINANTRIX and had a big hit with "Dominantrix sleeps tonight")
Also on this 12inch: Hip Hop & Graffiti legend RAMMELLZEE with DEATH COMET CREW remixed by Munich based – Duo PROTEIN……. and the bomb: The ultrarare electrofunk track "if i gave you a party" by the obscure american band SEXUAL HARRASSMENT.
Tracklist:


A1) Sexual Harrassment – If I Gave You A Party


B1) Death Comet Crew with Rammellzee – Exterior St (Protein Version)


B2) Ike Yard – NCR (Funkstörung Version)