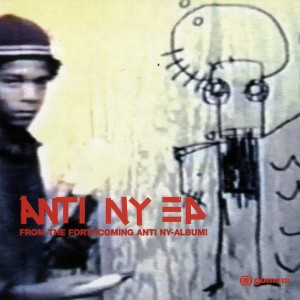 Release: 10 September 2001
Cat#: Gomma 015
This ANTI NY – EP nr.1 is a teaser to the ANTI NY – album that will be released on CD & vinyl in late sept/ early okt 2001. ANTI NY is a collection of early 80ies music from New York's folk-funk-punk-disco-hip hop underground with some fresh remixes:
The hole collection was compiled and arranged by Munich's producer team MUNK. On the album there will be original music by JEAN – MICHEL BASQUIAT, RAMMELLZEE, KONK and other cool, folky & danceable tracks from the 80ies. Also reworks by SYRUP (COMPOST), FUNKSTÖRUNG, THE PSYCHONAUTS (MOWAX), MUNK and others.
This ANTI NY – ep features the maybe most dancable tune that FUNKSTÖRUNG ever did: They reworked N.C.R. by new york 80ies no wave band IKE YARD (Ike Yard later recorded as DOMINANTRIX and had a big hit with "Dominantrix sleeps tonight")
Also on this 12inch: Hip Hop & Graffiti legend RAMMELLZEE with DEATH COMET CREW remixed by Munich based – Duo PROTEIN……. and the bomb: The ultrarare electrofunk track "if i gave you a party" by the obscure american band SEXUAL HARRASSMENT.
Tracklist:


A1) Sexual Harrassment – If I Gave You A Party


B1) Death Comet Crew with Rammellzee – Exterior St (Protein Version)


B2) Ike Yard – NCR (Funkstörung Version)

Categories:

Gomma Releases

. Tags:

Death Comet Crew

,

Funkstörung

,

Ike Yard

,

Protein

,

Sexual Harrassment

,

The Rammellzee

10.09.2001