01.10.2001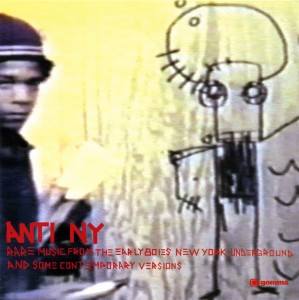 Release: October / 2001
Cat#: Gomma 013 CD
Rare music from the early 80's New York underground and some contemporary reinterpretations.
It took us over three years to finish this compilation. The first time we spoke to Michael Holman (former partner of Jean-Michel Basquiat and Vincent Gallo, promoter of the first hip hop shows in New York) was in 1997. He offered us to release the only (and yet unreleased) song of Basquiat's band Gray that was ever recorded.
At the time, we were already planning to release a compilation with early 80's No Wave & Boogie. So we decided to combine both things and came up with a collection of tunes mainly from New York's early 80's downtown art & music scene – mostly bands that had a connection with the Mudd Club.
Mudd Club was the place to be in New York's early 80's nightlife. After The Loft and Studio 54, it was here where Eno & Bowie, Gallo, Basquiat and lots of other innovative young guys from the art/fashion/music scene lost their nights.
Mudd Club was the place where Japanese designer talents like Yamamoto & Myake met young artists such as Futura 2000, Keith Haring and others. Live shows by Jim Jarmusch's band The Del-Byzanteens or Vincent Gallo jamming with Gray were a standard act at the Mudd. Gray was the musical art-noise project of artists Jean-Michel Basquiat and Michael Holman.
Holman also was the main collaborateur on this compilation. Check his original photos on the artwork. This man was the capo: producer of the first ever hip hop tv-shows graffiti rock & beatstreet, promoter of the first hip hop parties outside the Bronx and superhero of the Beastie Boys and all other rap aficionados.
We also worked with Steve Mass, former owner and promoter of the Mudd Club. Together with him and other original band members like Jonny Sender of Kong and Justin'time (co-founder of Vince Gallo's band Bohawk), Munk & Gomma compiled the album. Steve Mass also wrote the liner notes for the compilation.
We made a collection of what we think are some very fine songs. Hip hop & graffiti – legend The Rammellzee on a trash-electro tune with Death Comet Crew (later they were called The Dominatrix and were sampled by the likes of DJ Hell and Terranova). An ultrarare recording of Jim Jarmusch that sound like a cool Beck – song. The only recorded and never released music by Jean-Michel Basquiat. A sweet little song by now very known writer Vivian Goldman and much more.
But gomma isn't a retro label. Most of the styles – music, fashion, art – from those days are the fundament of now – culture. So we took the originators stuff and asked some friends to reinterpretate them.
Compost band Syrup replayed the Sexual Harrassment tune. Funkstörung goes electroboogie with Ike Yard. Protein makes Rammellzee sound like it's 2010…
Tracklist:


1. Vivien Goldman – Launderette


2. Sexual Harrassment – If I Gave You A Party


3. Gray – Drum Mode


4. Konk – Love Attack


5. The Del/Byzanteens – Girl's Imagination


6. Ike Yard – N.C.R.


7. Death Comet Crew – Exterior St.


8. Gray – Drum Mode (Paul Mogg Version)


9. Vivian Goldman – Launderette (Munk Version)


10. Sexual Harrassment – If I Gave You Party (Syrup Version)


11. Death Comet Crew – Exterior St. (Protein Version)


12. Ike Yard – N.C.R. (Funkstörung Version)