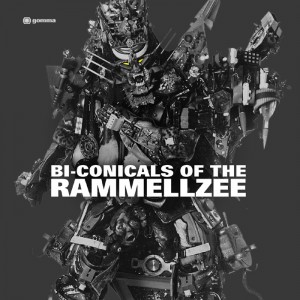 Release: March 2004
Cat#: Gomma 044 CD/2LP
THE RAMMELLZEE is a NYC – Icon. Something like the "Godfather of street art"! Known as one of the originators and still leading figure of contemporary underground art, street culture, Graffiti and Electro/ Hip Hop (his BEAT BOP single with Jean Michel Basquiat and K – Rob is one of the most important original rap tracks ever – reissued this year on MoWax and Soul Jazz). He was featured in all important Hip Hop films of the 80ies ("Wildstyle"…) and worked with people like Fab 5 Freddie, Michael Holman, Futura 2000, Phase 2 and was (with his partner Basquiat) one of the first graffiti artists accepted by the "official" art world. Over the last few years he got quite a heavy reputation – especially in Japan and in the US street art scene – for developing his own special universe ("Gothic Futurism"). It consists of big human size fantasy muppets (walk-ins), the LETTERRACERS (figurative skateboards) and also the original collage paintings he had invented back in the 80ies. But this is not a comeback! The Rammellzee has been already doing lots of new stuff recently including styling NYC's SUPREME skate/ fashion company's shops worldwide in 2003, doing new exibitions and performing several concerts in Japan with (Japan's Nr. 1 Hip Hop – DJ) DJ Kensei and NYC's Death Comet Crew. Japnese leading mag RELAX and UK's DAZED & CONFUSED recently came out with some big (cover) storys about him.
After the 2003 No Wave/ Punkfunk/ NYC – revival – wich Gomma preceeded with it's 2000' ANTI NY compilation – the Rammellzee's album could be a next level. A futuristic development of the original No Wave and Post Punk attitude – the angry, superenergetic NYC rawness versus an international new school of electronic producers…this is not a revival of 20 years old music! This is NOW – sound! We feel it fits perfect into 2004.
The Rammellzee was looking for some fresh musicians who could help him to record a soundtrack for his "Gothic futurism" universe. He met the Munich based Munk guys in 99 when they licensed a track from him for ANTI NY – compilation and were introduced by common friend Stuart Argabright (aka the Dominatrix aka Death Comet Crew). Together they decided to realize this project on Gomma including fresh producers from different parts of the world. The eleven tracks have been made in 2002 and 2003 in NYC, Munich, Tokio, San Francisco and Berlin. Rammellzee took them as a basis for his "speaches". It's GOTHIC FUTURISM. He has a lot to say. (CHECK: WWW.GOTHICFUTURISM.COM)
ARTWORK: THE RAMMELLZEE. Guest appearances by NYC – rappers K – ROB & Shockdell.
Tracklist:


1) Do We Have To Show A Resume?


2) Beat Bop Part 2


3) Cheesy Lipstick


4) Jamin Zabar Jamin Zabar


5) Pay The Rent


6) Quack


7) Sigma 1


8) Traxxstoppers


9) Pogo


10) Funky Dream Part 3


11) When Hell Freezes Over

Albums

,

Gomma Releases

,

The Rammellzee

. Tags:

The Rammellzee

01.03.2004