02.06.2008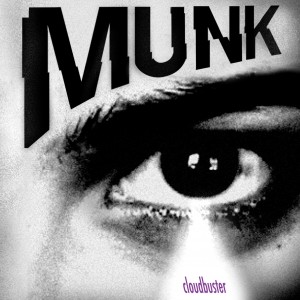 Release: 2 June 2008
Cat#: Gomma 110 CD
MUNK is the project of Italo – Germany DJ, producer, pianoman and globetrotter Mathias MODICA – one of the two guys behind GOMMA RECORDS.
MUNK has been  described as the "…the German DFA" by Londons NME magazine and "Germany's king of fucked up disco" by VICE. The MUNK debut album APERITIVO was released in 2005. UK's i – D magazine defined it as "a superb futuristic mix of space disco and psychedelic soul".
The main hit was the disco anthem "Kick out the chairs!" which featured long time Gomma fan JAMES MURPHY from DFA on vocals.
The new MUNK album CLOUDBUSTER includes 3 songs with italian leading actress ASIA ARGENTO (known from the last Sofia Coppola and Abel Ferrara movies.) and Matty Safer (The Rapture).
The first single will be " Live Fast! Die Old!" featuring Asia Argento. The song got huge props by ED BANGER boss BUSY P. He wanted to do an own version of the song. His version and remixes by THE JUAN MACLEAN (DFA), HEADMAN, WHOMADEWHO and others will be coming up in may.
MUNK now is a 4 person live band! The band consists of Mathias Modica and POLLYESTER, BEN MONO and DOC DOHLE from Berlin. Check videos of MUNK LIVE and of the singles on YOUTUBE.
Tracklist:


1) Live Fast Die Old


2) Down In L.A.


3) Interludus No.1


4) You Never See Me Back Down


5) The Rat Race


6) Under Kontrol


7) No Milk


8) Bohemian Mud Strut


9) Monopterus


10) Interludus No.2


11) Il Gatto


12) Psycho Magic


13) Interludus No.3


14) The Knights Of Heliopolis