14.05.2010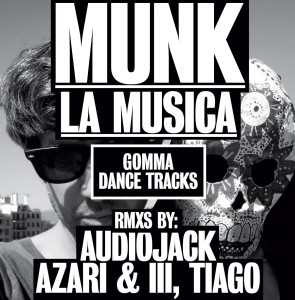 Release: 14 May 2010
Cat#: Gomma DT015
The first new Munk single since over 2 years! Official release this week….and everybody seems to like this little ironic 90ies Italo Beach House tune already. DJs such as Tim Sweeney,Busy P, Aeroplane and even Luciano are playing the song. Kitsune licensed it for th Kitsune – Ponystep compilation in july and Erol Alkan presented it last week on his BBC show.
The single includes a heavy remix package: Audiojack, Azari & III, Tiago from Italians Do It Better, Mercury, Shir Khan from Berlin. All 100% dance floor winners…and girls love it anyway…. "Bam Bam Bam Bam…"
La Musica is taken from an upcoming Munk 5 track EP that will be released on Gomma in September.
Busy P / Ed Banger: "Dope dope 12″….i love it!!!"
Tim Sweeney: "Nice one! Really liking original, Mercury and Azari. All quality."
DJ Chloe: "I love especially the Audiojack Remix"
Shit Robot/ DFA: "This is great, nice one!"
DJ Mehdi: "My favorites are Mercury Remix, and Azari"
Ellen Allien: "So great, so great…"
Miss Kittin: "Love the original and Audiojack remix! Funky piano!"
Severino / Horse Meat Disco: "The original is my fav …so groovy."
Mylo: "The new song sounds amazing…"
Thomas / Rub n Tug: "Can't stop listening. Really dig the playful vocals and euro sleaze"
Tracklist:


A1) La Musica (Original Extended)


A2) La Musica (Tiago Remix)


B1) La Musica (Audiojack Remix)


B2) La Musica (Azari & III Remix)


**) La Musica (Mercury Remix) (Digital only track)


**) La Musica (Shir Khan Remix) (Digital only track)