01.04.2011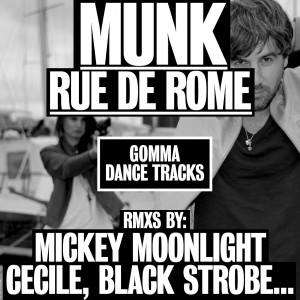 Release: 1 April 2011
Cat#: Gomma DT 029
This week we release the new Munk single Rue de Rome.
It comes with remixes by Mickey Moonlight (Ed Banger), Cécile (Gomma), Black Strobe & upcoming french Techno kids Nasser.
The song has also an amazing sex & crime video by french directors Doublezero. (Part of Partyzan Crew from Paris – the production company of Michel Gondry, Mr.Oizo and Gaspar Noé). Video out on Monday.
By the way: Munk's "The Bird & The Beat" album is getting amazing reactions right now. Rolling Stone magazine called it "a masterpiece!" England most important electronic mag DJ magazine just made a 4 page story and URB mag/USA called it "a perfect sunny summer teaser… irresistible. An early contender to album of the year!"