19.05.2008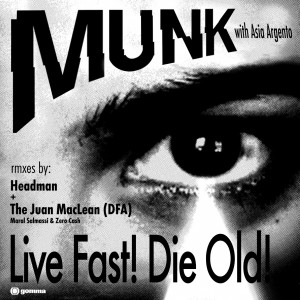 Release: 19 May 2008
Cat#: Gomma 109
After the big hit KICK OUT THE CHAIRS! with James Murphy from 2005 finally the new MUNK album CLOUDBUSTER comes up in June 2009. The first single LIVE FAST DIE OLD is a PIANO DISCO track which features Italian actress ASIA ARGENTO.
These first remixes have been done by DFA's THE JUAN MACLEAN, Gomma's very own HEADMAN and rising DJANE star on the DiscoTech scene MARAL SALMASSI.
The JuanMacLean delivers a Piano House piece which could easily be THE ANTHEM for the new generation of piano house. The flip side brings an equaliy groundbreaking piano disco remix by Gomma's own HEADMAN. The third mix is the tune which sound most like the original track: it's the most discoish version of the track. A remix by MARAL SALMASSI – Persian DJane who lives in Germany and does a very smooth sounding disco sound. THIS SINGLE IS ONE OF THE BEST GOMMA SINGLES EVER!
Tracklist:


A) The Juan MacLean Remix


B1) Maral Salmassi & Zero Cash Remix


B2) Headman Remix