08.04.2013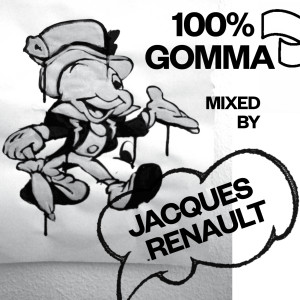 Cat#: Gomma DT048
Release: 5 April 2013
New York house maestro Jacques Renault is an old friend of Gomma. As he always plays lots of our releases he came up with the idea to do a special SUPERMIX of Gomma tracks only. Rare, old Gomma 12inches mixed with the new, fresh Gomma stuff.
He created a 60 minutes voyage. Dark, dirty, slow, futuristic, percussive. From Disco to Techno. Including Gomma releases from Daniel Avery, Baldelli, Barking Dogs, Munk, Moullinex, Deadstock 33s and Mercury's new single "Man" – (that currently gets lots of support from DJs like Disclosure, Axel Boman and TEED.)
The 100% GOMMA mix comes out for FREE on Soundcloud and as a CD with French TSUGI magazine in April.
Also available: A 4-track vinyl 12″ sampler.
Tracklist:
1) Leroy Hanghofer – Pin (Jacques Lu Cont Remix)
2) Dimitri From Paris & Los Amigos Invisibles – Glad To Know You (Ray Mang Flying Dub)
3) Capablanca & T. Keeler – No Hay Dub
4) GBs – Lucky In Vichy
5) Severino Horse Meat Disco – Bounce
6) Daniel Avery & The Deadstock 33s – Nylon Icon
7) Headman – It Rough (Chicken Lips Remix)
8) Baldelli – Phobos
9) DJ Steef – Venusian Missing
10) The Glimmers – Awake
11) Munk – Keep My Secret (Jacques Renault Remix)
12) Mercury – Man
13) The Barking Dogs feat. Tom Trago – Your High
14) Telonius – Control
15) The Deadstock 33s – Tic Tic Toc
Buy on Beatport: http://btprt.dj/XCvQVn
Buy on iTunes: http://bit.ly/12IFiF1
Share on Facebook, Twitter or Google+: