19.06.2017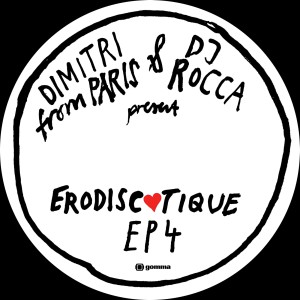 DIMITRI FROM PARIS and his brother in crime DJ ROCCA come back to Gomma with a new 3 track EP. His fourth release on Gomma. For those who are too young to know: Dimitri is a legend! You can put him in a row with old school wildstyle disco heroes like DJ Harvey, Baldelli or Francois K.
He has been doing consistently good music over the last 20 years. From his "A Night at the Playboy Mansion" compilations to his own tracks, his always inspiring DJ sets and most of all: his never disappointing edits: his rework of Prince: "I Wanna Be Your Lover" must be one of the most hammered edits of the last 10 years.
Dimitri comes from the Parisian school of Disco. He first appeared to the bigger public with his debut album "Sacrebleu" in 1996. Coming along with the first French house wave (St.Germain, Super Discount, Daft Punk…) – he quickly became a worldwide respected DJ with a very own personal touch. He officially remixed artists like Bjork, New Order, Chic and even – officially – Michael Jackson. In 2005 he produced the album "Super Pop Venezuela" for Los Amigos Invisibles which grabbed a nomination for a Grammy Award.
Let's put it like this: Probably there is not one DJ with taste that hasn't got his personal favorite Dimitri From Paris track in his bag.
Some years ago Dimitri teamed up with Italian producer, DJ and man of many talents DJ Rocca. Rocca might be known to many for his work as Ajello and Crimea X. Among the many names he produced music for he also made tracks with cosmic disco innovator DJ Baldelli. When Rocca and Dimitri are in the studio together, they somehow have a magic touch. Simple, yet effective, heavy disco influenced but never retro sounding little pearls they produce.
Glamorous as ever. Nasty as always.

Download:
iTunes: https://itunes.apple.com/de/album/id1238778938?i=1238778983
Traxsource: https://www.traxsource.com/title/807596/erodiscotique-ep-4
Juno Download: http://www.junodownload.com/products/dimitri-from-paris-dj-erodiscotique-ep-4/3433993-02/
Beatport: https://www.beatport.com/release/erodiscotique-ep-4/2031487