16.07.2010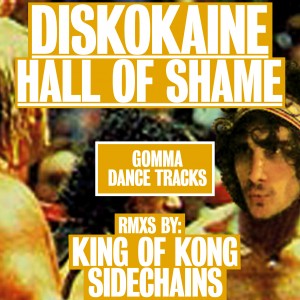 Release: 16 July 2010
Cat#: Gomma DT 016
Diskokaine is back! The Vienna born – half NYC based – 25 year old ElectroDisco maniac and longtime Gommagang buddy with a worldwide fan crowd. The guy who discovered and released the first Sally Shapiro songs and last year had a huge single (Riminini). With the so much talked about remix by DJ Funk of legendary Dancemania records.
Currently Diskokaine aka DJ Marflow is busy between contributing to the production of the new Hercules & Love Affair album, djing around the planet – including gigs for Vice and even Marc Jacobs parties – and working on an album–with people such as Holy Ghost, Legowelt, Patrick Pulsinger and Mathias and Jonas from Gomma.
Here is his new release: a dark but funky – trancy but soulful dancefloor smasher. Includes remixes by Warsaw-based King of Kong, Sidechains, Hannulelauri, and a cowbell-laden alternative mix. Big support already by Pete Tong, Miss Kitten and many more.
Shit Robot/DFA: "This is the FUCKING BOMB holmes!!!!"
Mike Simonetti: "Shit and this is a good one!"
Erol Alkan: "Dig Diskokaine"
Robert Owens: "Great track"
Timo Maas: "Rocked Miami with it already in march!"
Prince Language: "The OG is nasty, and King Of Kong Rmx is bananas (no pun intended;) Go Wolfy!"
Bottin: "Love the Hannuelari mix! will support"
Rex The Dog: "Thanks for this lovely track which I dig dig."
Andy Butler/Hercules & Love Affair: "Played it at Fabric main room and crowd went crazy…"
Aeroplane: "We play the King of Kong remix A LOT!!!!! When the piano break comes, it's always about killing the crowd!!!! It will be a HIT!"