12.11.2010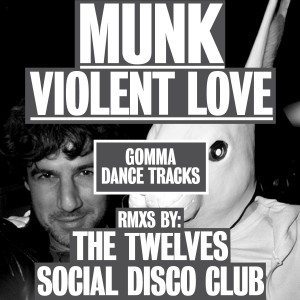 Release: 12 November 2010
Cat#: Gomma DT021
Today Gomma releases the new Munk single Violent Love. With fat fat remixes by The Twelves & Social Disco Club.
It seems this is a real hit – as the song and the video are on millions of blogs since a few days. The song features Parisian singer Clara Cometti (former member of Koko Von Napoo and keyboarder of The Teenagers) and is taken from Munk's "Mondo Vagabondo" 5 track E.P.
Check the funny video by Munich shooting stars Kill the Tills. Featuring french actress Jeanne Tremsal and Munkman & Mathias Modica himself.
Tim Sweeney: "the twelves remix? really liking that one!"
Ajax: "It's a real smoker!"
The Magician: "the EP is GREAT! Loving the Twelves remix !! "
Shir Khan: "love original and twelves version the most. great tune indeed."
Acid Washed: "FAT! The house version and the The Twelves Remix are our favorites."