Artists » The Phenomenal Handclap Band
[HOMEPAGE] [MYSPACE] [FACEBOOK] [BOOKING] [BACKROOM]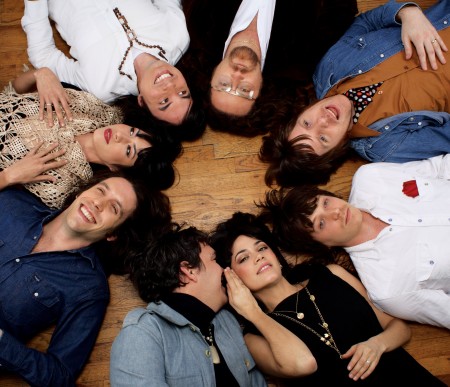 The sound of The Phenomenal Handclap Band is psychedelic funk. The band's heads are Daniel Collás, the "Witch Doctor", and Sean Marquand, the "Medicine Man". These guys are leading figures in New York's "Williamsburg" night life and music scene. Party impressarios, musicians and DJ's with a nearly encyclopaedic knowledge of all that ever happened in esoteric music: From Brazilian Vintage Pop to Funkadelic Psycho Rock.
For quite some time Daniel and Sean were looking for a new band who could be the answer to all that happened in music over the last years – but they couldn't find it. So – by last year – they decided to form their own group. They called a few of their friends from New York's Indie Rock and Underground Soul scene and started this collective of their dreams.
And what a collective it became! TV On the Radio's Jaleel Bunton. Jon Spencer from the Blues Explosion. Nick Movshon – bass player in Amy Winehouse' band, and even Luke O'Malley who is part of Mary J. Blige's band joined the group. Female Rap Icon Lady Tigra of L'Trimm and Rebe Bo, who usually plays the bass in the soloproject of The Strokes' Albert Hammond Jr.
Thus, The Witch Doctor and his Medicine Man realized their holy musical vision: Together they created a sound which is danceable and catchy as well as anthemic, sometimes intimate and orchestral. Even though they use a lot of elements of early 70ies music, the sound is totally NOW. And the most important thing: They never sound like any other current band. Instead there are bits of early Fania Latin Soul records, esoteric Psychedelica, AfroSoul, Rare Funk, Brazilian Fusion… sometimes they sound like Tom Tom Club in a Salsa party…sometimes like James Brown on Acid…
Discography:


Baby Remixes Maxi (2010)


15 to 20 Maxi (2009)


The Phenomenal Handclap Band CD (2009)


You'll Disappear Maxi (2009)