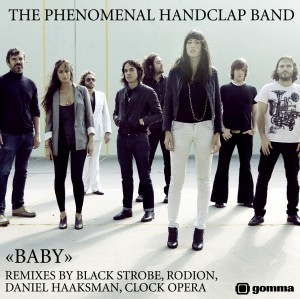 Release: 12 March 2010
Cat#: Gomma 139
There is not much left to say about The Phenomenal Handclap Band from NYC. Blogs, music mags, everybody raved about this new 8 members psychedelic funk future hippie combo. The NME described them as the "follow up to MGMT and Empire Of The Sun".
Anyway: here is the new single. Remixes by: Blackstrobe from Paris–The pioneers of the Parisian House scene are coming back with their first remix since years. And they do a beautiful -one for the ladies- classic 90ies house tune. Rodion from Italy are in the perfect Italo disco mood and Daniel Haaksman -the dude behind Europe's leading Baile Funk label Man Recordings comes up with heavy heavy percussion breaks. And Clock Opera aka Guy Connelly, after remixing Bloc Party and Peter, Bjorn & John, contributes a deep, rolling remix.
"Blackstrobe did a great rmx!" Josh Wink
"Clock Opera & Rodion Rmx are really good!" Stephen Aeroplane
Tracklist:


1) Black Strobe Remix


2) Daniel Haaksman Remix


3) Clock Opera Remix


4) Rodion Remix


5) Rodion Dub

Gomma Releases

,

The Phenomenal Handclap Band

,

The Phenomenal Handclap Band Releases

. Tags:

Black Strobe

,

Clock Opera

,

Daniel Haaksman

,

Rodion

,

Rove Dogs

,

The Phenomenal Handclap Band

12.03.2010