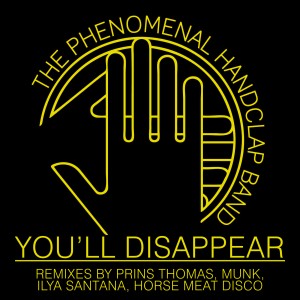 Release: 18 September 2009
Cat#: Gomma 135
They are great….and everybody seem to looove them already. The new band from New York on Gomma. The PHENOMENAL HANDCLAP BAND play psychedelic funk and they are making waves all around. Everybody is getting mad about them since the first recordings were circulating the world's web. Even London's NME chose them as one of their favorite bands for this year.
The band consists of 8 members, all part of new York alternative funk and indie rock scene. Besides there are many guest on the debut album: JON SPENCER from the BLUES EXPLOSION and members of TV ON THE RADIO and AMY WINEHOUSE's backing band.
Album out in October. The single: "You'll Disappear", includes remixes by Prins Thomas, Gomma's own Munk, Ilya Santana and Horse Meat Disco.
Currently the band is touring in UK: if you have a chance check them out. Its more than a concert..it's a sacral funk ceremony.
Tracklist:


1) Album Version


2) Prins Thomas Diskomiks


3) Munk Remix


4) Ilya Santana Remix


5) Horse Meat Disco Remix

Gomma Releases

,

The Phenomenal Handclap Band

,

The Phenomenal Handclap Band Releases

. Tags:

Horse Meat Disco

,

Ilya Santana

,

Munk

,

Prins Thomas

,

The Phenomenal Handclap Band

18.09.2009