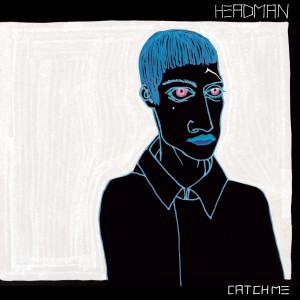 Release: 17 March 2008
Cat#: Gomma 108 CD
After 7 years of intensive producing HEADMAN hardly needs any introduction! Always ahead of his time ROBI INSINNA was a pioneer of the punk-funk / rave disco movement with his mates of DFA and PLAYGROUP a few years ago when releasing his first album It Rough on Gomma Records. Since then he developed into one of the world's hottest remixer who is always two steps ahead of the current music fashions.
HEADMAN's third album Catch Me again shows the new developments in the HEADMAN sound. He fused his trademark Punk Disco with new Indie influences and a always hard kickin electro beat. Catch Me includes the 2 hit-singles Running Into Time and Catch Me if U Can which already got the props of great DJs everywhere. Catch Me If U Can also appeared on the Kitsuné Boom Box compilation.
The album also highlights the voice of JEREMY KERR of legendary band A CERTAIN RATIO on Dreampieces and of ANTON SPIVAC, who also lent his voice for HEADMAN's Moisture, on the track Come On. The whole album brings a new breath of life in the world of Pop and dance music, breaking some barriers, mixing up indie vibes with an electro attitude and with a little bit of Bowie and Eno in it too… as it was completely produced in Berlin legendary HANSA Studios where artists such as Bowie and Iggy Pop got their legendary 70ies sound from.
Tracklist:


1) Catch Me If U Can


2) Running Into Time


3) New


4) Dreampieces


5) Super


6) Come On


7) Interlude


8) Song 8


9) Two Sisters


10) Hostage


11) Brave


12) Interlude Reprise

Albums

,

Gomma Releases

,

Headman

,

Headman Releases

. Tags:

Headman

17.03.2008