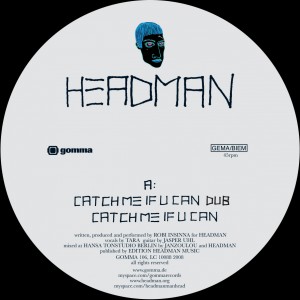 Release: 31 March 2008
Cat#: Gomma 106
This is the long awaited new single of Berlin-based dj & producer HEADMAN. Taken from his forthcoming album 'Catch me' on Munich's Gomma records.
HEADMAN aka Robi Insinna can be easily named as one of the leading figures in the new discorockravepunk scene. With friends from DFA and Output records he was one of the first producing so called Punkfunk Disco. His first album "It Rough" on Munich's GOMMA Records from 2001 still sound fresh as hell. Meanwhile he has developed into one of the leading DJ's and producers – Being one of the few Non-British artists playing constantly the biggest UK Clubs. Getting props from the major British DJ's and bands such as Erol Alkan, Soulwax and Jerry Bouthier from London's "club of the moment" Boombox who have all cooperated with Robi Insinna.
Recently he has been asked to do remixes for FRANZ FERDINAND, ROXY MUSIC, CHROMEO, THE GOSSIP, PONEY PONEY, MYLO and many others. Currently also Headman's own label RELISH is getting heavy props by kids all around the world. La Musique, La Musique, La Musique…
Tracklist:


A1) Dub Version


A2) Vocal Version


B1) Bag Raiders Remix


B2) Tronik Youth Remix

Gomma Releases

,

Headman

,

Headman Releases

. Tags:

Bag Raiders

,

Headman

,

Tronik Youth

31.03.2008