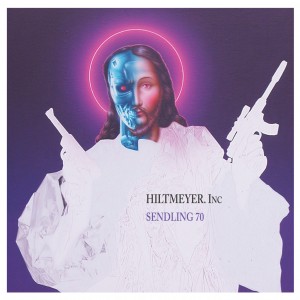 Release: 07 February 2005
Cat#: Gomma 055 CD/2LP
What is HILTMEYER INC? In a review, New York City's Top–Shop TURNTABLE LAB puts it the easy way: "it's just the hottest raw electronic disco thang."
Hiltmeyer is well known in the Munich club scene: a few years ago for being an excellent record dealer, always hanging out in the streets and clubs, and now for being an excellent DJ at the Gommagang parties. He was raised in a part of Munich where a lot of Munich techno producers like Zombie Nation, Richard Bartz or the Disko B/ Chicks on Speed people pass their time: Sendling.
Hiltmeyer was always a music fan. By 13 he started to get into the sound that was called "Cosmic Music" in Southern Europe: a dance music movement that was developed in Northern Italy back in the early 80s and ruled the scene from North Italy through Austria and South Germany till the Mid 90s. The original Cosmic as Hiltmeyer Inc likes it (he owns a huge mix tape collection) is a very funky special way to select and mix Italodisco B – Sides, Afro funk and Protoelectro. In his own productions Hiltmeyer Inc takes this Italian cosmic disco attitude and translates it into his fresh personal style with a dirty, futuristic, techno flavor. Pornotrance from outta space!
Hiltmeyer works with an MPC wich ususally gets used by Hip Hop producers and has only very low–key equipment. But his first releases worked well: The first tracks "Narkotik!" and the 12" called "I come from München Sendling and I don't give a fuck!" were a favorite of Kompakt's Tobias Thomas and Parisian DJ Chloe.
Cover by original Munich artists WON abc – the Jesus is an original acrylic painting. (WON recently got fame in Street art/ Graffiti circles for painting an 8 meter piece on the indoor wall of Sri Lanks's biggestz male jailhouse!)
Tracklist:


1) Narcotic!


2) Pornhaus


3) 70er Jahre


4) S7 Ride


5) Finalahh


6) Synthipopü


7) Chefsong


8) Hillygirl


9) Rockabill


10) Valleybass

Albums

,

Gomma Releases

,

Hiltmeyer.Inc

. Tags:

Hiltmeyer Inc.

07.02.2005