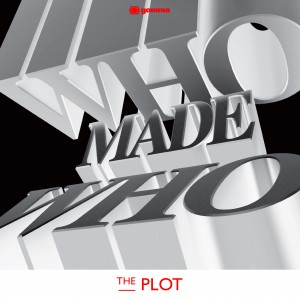 Release: 23 March 2009
Cat#: Gomma 120 CD / LP
Here it comes! The new album of WhoMadeWho: The Plot! Forget all the UK Top 10 bands form last year who tried to sound like the 3 Danish guys…here comes the original!  And they are everywhere right now: The guys are on the cover of the most important music magazines all over Europe, playing the big festivals and getting props from all the important blogs.
Remember? The guys' career started in 2006. Back then their first singles (Satisfaction.. and Flat Beat – the cover!) and their self-titled debut album was released on Gomma Records. They started to be the favorite band of a lot of big acts: LCD Soundsystem, Soulwax, Franz Ferdinand–yes even Daft Punk chose them as support act for their tours. And Josh Homme from Queens Of The Stone Age covered their single Space For Rent.
It is the perfect match: Gomma records and the three completely different musical characters of WhoMadeWho: Jeppe Kjellberg – the walrus bearded guitar player, has been part of the New Yorks experimental Rock and Jazz scene for years. He has even recorded a mini album with David Tronzo – guitar player of the legendary Lounge Lizards. Tomas Høffding – the bass man with the falsetto voice, has his roots in the Scandinavian Garage Rock scene (but always has been in love with fat disco bass lines). And Tomas Barfod aka Tomboy is not only the drummer of the band but he's also known for producing some of the hottest Advanced Electro/ House music of the moment for labels such as Turbo, Kitsune and Get Physical.
Now, here's the band's new album. 13 songs that are the perfect example for a band who uses a tiny production budget to widen, expand and multi-colorize their sound without losing their soul. There's a sexual and sensual authenticity to the breathed echoes of their first album. 13 songs which, when heard by Christian Wright – the legendary engineering-maestro at London's Abbey Road studios – lead to the point that he at all costs wanted to master this record by himself.
The Danish guys created a brand new pop sound influenced by early 70ies Progrock as well as the complex side of disco music, with a very rough DIY pop approach and some well integrated electronic bits and drum sounds. Check the videos by Simon Owens (The Plot and TV Friend) and Chicks On Speed (This Train).
Tracklist:


1) TV Friend


2) The Plot


3) Small Town City


4) Trickster


5) Keep Me In My Plane


6) This Train


7) Office Clerk


8) Ode To Joy


9) Motown Bizarre


10) I Lost My Voice


11) Cyborg


12) Raveo


13) Working After Midnight

Albums

,

Gomma Releases

,

WhoMadeWho

,

WhoMadeWho Releases

. Tags:

WhoMadeWho

23.03.2009