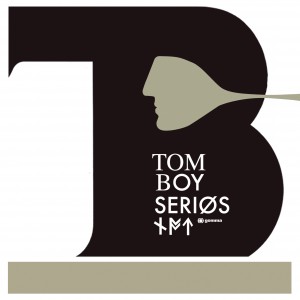 Release: 19 February 2007
Cat#: Gomma 090 CD
Canadian House – Meister TIGA sometimes tells this story about how he was at a hotel gym in LA, minding his own business, playing the Tomboy sound on his "ghetto blaster"…when in walks……MICHAEL DOUGLAS! ….and after "grooving" to the music for a few minutes Douglas tells Tiga: "This music is fucking great, man"
Don't trust our little info sheet….trust Michael Douglas:
Movie-star, Oscar winner and SEX addict…..he LOVES TOMBOY!
TOMBOY aka Tomas Barfod (DJ, Über-producer and drummer of Danish future disco band WHOMADEWHO) is one of the most talked about guys in the new Electronic scene. He has done four euphorically received solo maxisingles on Gomma and this year has also been asked to do a single for Tiga's Turbo label, Get Physical and Kitsune. Now its time for his solo debut album: SERIOS are 14 moody, mellow, but freaked out "Spaceship" Electrosongs. Inspired by 70ies Cosmic disco, 90ies "Warp" – Electronica and the funky side of Rave culture.
But SERIOS isn't a dance album even if it consists of elements from the dance universe. Tomboy is a tricky guy: he uses common clubmusic ingredients (acid lines, disco breaks, rave synthesizers, drum machines) in a totally unusual way. He plays the drums and reworkes them with electronic techniques. Creating this very personal sound.
SERIOS is sleazy chilled out music – but far away from any Chill Hop Lounge. And even if it was made by a "real" musician and studiowizzard the music never sounds too clean and perfect.
Tracklist:


1) Swan


2) Murky Jerky


3) Hi's And Low's


4) Baffioso


5) Flamingo


6) Ist So Hot


7) Synchronize


8) Finale I/O


9) Maggie & Samira


10) The Movies


11) Æblegrød


12) Something


13) Zåmiang


14) I K. Guitar

Albums

,

Gomma Releases

,

Tomboy

. Tags:

Tomboy

19.02.2007