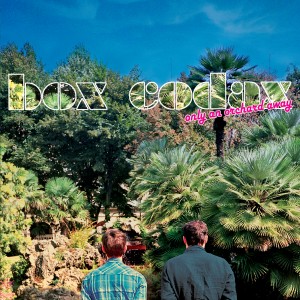 Release: 02 October 2006
Cat#: Gomma 083 CD
BOX CODAX is the long awaited solo project of FRANZ FERDINAND's musical mastermind Nick McCarthy. BOX CODAX is a project of him and his longtime friend Alexander Ragnew. "Only an Orchard Away" is their debut album. A collection of songs, often romantic and whimsical nostalgia, at other times scrappy and punky: this is an honest and genuine collection of witty pidgin English lyricism, dark humour and the award winning song writing of a pop genius presented out of context in these lo-fi recordings.
Only An Orchard Away has an sharp old school electronic edge, at times like DIY electro hip hop and at others similar to DEVO. European folk (music) and Leonard Cohen stumble about on the tracks but with Alexander's haunting tones, this is always distinctively BOX CODAX.
It has taken a long time to pull the Box Codax album together – no wonder really, considering that one of guys is a reclusive writer and the other a heavy touring musician. Nick's musical career took him to study classical double bass and piano at The Conservatoire in Munich/Germany. After his studies he moved to Glasgow and created Franz Ferdinand together with Alex Kapranos.
The first single is the song "Naked Smile". Featuring a remix by Jonny Wilkes from Glasgows OPTIMO (aka NAUM GABO) and one from 2006's hottest new producer; METRONOMY, who tackles the track with a 6/8 rhythm and prog rock keys.
Tracklist:


1) Pollockshields Girls


2) Dogs To The Beaches


3) I Swam With The Otter


4) Naked Smile


5) Like A Rock


6) Do It With Charm


7) Rat Boy


8) Missed Her Kiss


9) Unemotional Man


10) Boys and Girls


11) Red Wine in Tunis

Albums

,

Box Codax

,

Box Codax Releases

,

Gomma Releases

. Tags:

Box Codax

,

Nick McCarthy (Franz Ferdinand)

02.10.2006