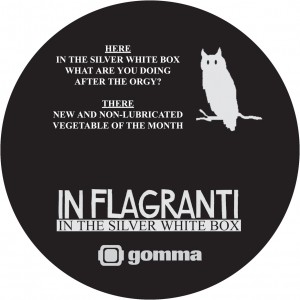 Release: 23 October 2006
Cat#: Gomma 078
IN FLAGRANTI are from New York – they have been releasing some amazing stuff on NY's CODEK records and organize the famous "Happy Ending" parties in the Lower East Side on Tuesdays. They have been djing along with the MUNK guys from Gomma a lot and so it has been time that they do a EP for the label. And what a EP: FOUR MIDTEMPO HOUSETRACKS. COSMIC DISCO and BALEARIC FUNK with a hip hop attitude. This is the NYC shit for 2007. Pitch down your players!
Tracklist:


A1) In The Silver White Box


A2) What Are You Doing After The Orgy?


B1) New And Non-Lubricated


B2) Vegetable Of The Month

Gomma Releases

,

In Flagranti

. Tags:

In Flagranti

23.10.2006