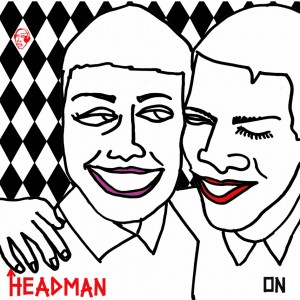 Release: 13 March 2006
Cat#: Gomma 068 CD / 2LP
Normally it's a great honour if a big pop band like Franz Ferdinand asks an underground producer to remix a song. If then also Röyskopp, Yello, Annie, Mylo and even Roxy Music call the guy and ask for a mix you can be quite sure that the producer must be more than just one of the many new one hit club wonders. And if next this artists starts to record his solo album and people like Soulwax, The Rapture and Radio 4 want to sing on it, it's not unlikely that there is something special going on.
All this is happening to Swiss born, but Berlin-based disco producer, DJ and painter Robi Insinna aka Headman.
You can easily call Robi one of the leading figures of the new disco movement. His first HEADMAN album "It Rough" was released back in 2003 on the small German label Gomma and set new standards in club circles. It was immediately nominated "album of the month" in Jockey Slut Magazine/UK and called one of the most important and innovative albums of the year by DJ's such as Trevor Jackson, Ivan Smagghe or even Hell. The title track (with a Chicken Lips re-work on the 12") caused a huge fuss in clubs around the world.
Since then he has been building up a worldwide underground reputation as remixer, producer and DJ – regularly playing "hot" clubs like Bugged out or Optimo in the UK as well as Tribeca in New York and FUN in Berlin. Besides the records on his main label Gomma, Headman has also recently been asked to publish a single on London's Output records. He also started an own little imprint (Relish records) and from time to time he puts out records under his moniker Manhead.
But his main project is the HEADMAN music: The Headman style is a very special version of (balearic) Disco, combining the organic sound of 70ies Leftfield Disco and Rock with the energy of 90ies house.
The new album includes songs Robi recorded with Stephen Dewaele from Soulwax/2many DJs (he performed on the first single ROH), Matt Safer from The Rapture, Anthony from Radio 4 and Erol Alkan from London's TRASH Club. The remix for the first single ROH was done by Trevor Jackson aka Playgroup. The second single MOISTURE includes two club mixes by Robi himself and the kicking MUSTAPHA 3000 remix.
Tracklist:


1) Suspect!


2) Roh


3) On & On


4) So Now!


5) Do U Feel


6) Moisture


7) Freedom Drums


8) Balearica


9) Upstart


10) So Disgraceful


11) Rong Hands


12) Everybody

Albums

,

Gomma Releases

,

Headman

,

Headman Releases

. Tags:

Headman

13.03.2006