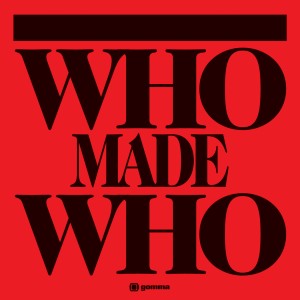 Release: 12 September 2005
Cat#: Gomma 060 CD/2LP
WHOMADEWHO. Three guys from Denmark that have a very own sound:
They play DISCO. But not so much mixing it with (Post) Punk and New Wave like so many other bands right now. WhoMadeWho use lot more influences: from Surfrock to Folk to 70ies Funk. And sometimes it feels like the guys heard a dose of Italodisco and Cosmic tapes before recording.
One of the interesting things about WhoMadeWho is the fact that all the three members have totally different backrounds. Tomas Barfod – the drummer is known as one of Skandinavia's best electronic DJ's. Jeppe Kjelleberg , guitar player, used to live in NYC where he was established in the local Avantgarde Jazz scene. He even recorded an album with former Lounge Lizards guitar player DAVIS TRONZO. And Tomas Hoffing the bass player is also member of danish garage rock band Garbo.
Tracklist:


1) Rose


2) Space For Rent


3) Jonny Lucky


4) Hello Empty Room


5) Good To Be There


6) Cigar


7) Out The Door


8) Small Wonders


9) Shake Your Boat


10) Monkeys


11) The Loop


12) I Love


13) Happy Girl


14) Manuelle Mittelwelle


15) Satisfaction (Bonus Track)

Albums

,

Gomma Releases

,

WhoMadeWho

,

WhoMadeWho Releases

. Tags:

WhoMadeWho

12.09.2005