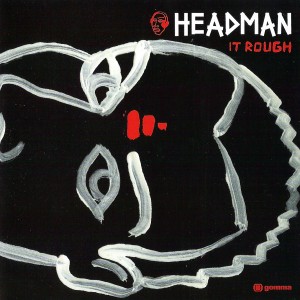 Release: November 2002
Cat#: Gomma 022 CD/2LP
Headman aka Robi Insinna is one of the originators of the new Disco & Punk Funk movement. Since he started his recording career 4 years ago on Gomma he has developed into one of the leaders of the new DISCOrock scene.
He has been asked to remix the singles of artists such as Franz Ferdinand, The Rapture, Roxy Music and Annie. His new album (out March 2006) features guests such as Soulwax, Erol Alkan and The Rapture. The Headman sounds seems to get slowly to established in the world of music. But Robi Headman has been doing it for a long time.
The IT ROUGH album came out in 2001 – when bands like The Rapture, LCD Soundsystem, !!!, Radio 4 were not on the map yet.
The album was immediately chosen "Album of the Month" in UK's Jockey Slut Magazine. Released only in small edition, but got very popular especially in the New York and London club scenes. Now it's over 4 years old and sounds still fresh. An exiting organic sounding, mostly instrumental disco album – which includes a good dose of 70ies rock influences as well as an elegant new wave vibe.
Tracklist:


1) It Rough (Vocal Version) feat. Tara


2) Headstart


3) Intermezzo


4) Touch Me


5) Headman


6) Relish


7) Anarchy


8) Trying


9) Rocket (Short Edit)


10) Blow


11) Brother


12) Up (Edit)


13) Find A Way


14) It Rough (Instr. Version)

Albums

,

Gomma Releases

,

Headman

,

Headman Releases

. Tags:

Headman

01.11.2002