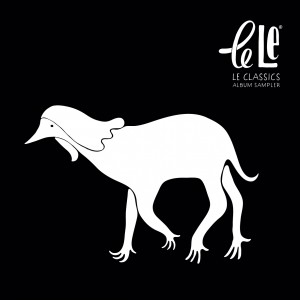 Release: 23 April 2010
Cat#: Gomma 142
Inspired by Nu-Wave Disco, Italo Disco, Pop clichés and 60s Glamour magazines: Dutch band Le Le is a unique force. Made up of Parra, graphic talent par excellence, Serge Fabergé (who is also in the Dutch rap-electro crew DJVT) and Rimer London (who has been part of the Electro Duo Comtron).
Their album Le Classics is a collection of weird electro funk songs. Rough and lofi pop techno and fucked up house.…introducing the new art of "Espernatology": a crazy combination of different languages and fantasy words. The 10-track album will be released next week, meanwhile we're already putting out a limited 5-track album sampler (including special Parra poster) on 12" vinyl. Get it now!
Erol Alkan: "Yeah, I like this !!"
Larry Tee: "Disco Monster is just that! A disco monster…"
Tracklist:


A1) Number One Girl


A2) Disco Monster


A3) Captive de ton chiffre


B1) Breakfast


B2) Skinny Jeans

Gomma Releases

,

Le Le

. Tags:

Le Le

,

Parra

23.04.2010