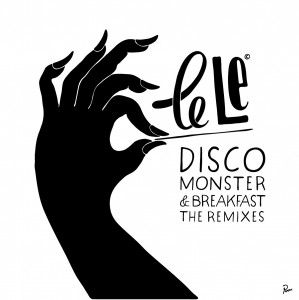 Release: 26 March 2010
Cat#: Gomma 141
It has been a rumor on blogs for a some time …but now it's sure. Le Le will release their album Le Classics on Gomma in May. The band of Serge Fabergé, Rimer London and sooperdooper illustrator Piet Parra finally decided to do release a collection of their songs on Gomma.
A few tracks had been on blogs and caused a big buzz. And in fact: Their dirty techno funk & proto house is fun. Inspired by 90ies Eurotrash, Italo, The French Riviera, Pop clichés and using a unique combination of English, Dutch, German, French and fantasy words.
For now we release two pre–album singles: Disco Monster and Breakfast. Both songs have been getting big talks on the blogs and DJ support from DJ such as Mehdi, Headman, Erol Alkan, Aeroplane… also the remixes are bombs. Check them out.. Azari & III, Mercury, Seymour Bits, Kill The Noise.
We're giving away a free download of the Breakfast track… available only for subscribers of our newsletter, so sign up now!
"Yeah, I like this !!" Erol Alkan
"Disco Monster is just that! A disco monster…" Larry Tee
"Seymour Bits Mix and Azari & III are cool!" Stephen / Aeroplane
"Awesome, i'm loving the Mercury remix of Breakfast!" Shit Robot (DFA)
Tracklist:


1) Disco Monster


2) Disco Monster (Azari & III Remix)


3) Disco Monster (Seymour Bits Remix)


4) Disco Monster (Mercury Remix)


5) Breakfast


6) Breakfast (Mercury Remix)


7) Breakfast (Kill The Noise Remix)

Free Downloads

,

Gomma Releases

,

Le Le

. Tags:

Azari & III

,

Kill The Noise

,

Le Le

,

Mercury

,

Seymour Bits

29.03.2010