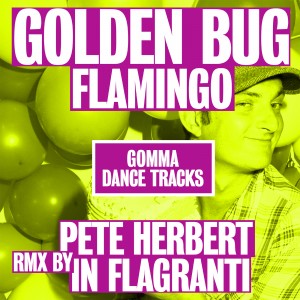 Release: 26 February 2010
Cat#: Gomma DT012
He definitely has the sound of 2010. Antoine Harispuru aka Golden Bug. Man from Paris – living in Barcelona…making the world happy with his crazy dancefloor funk. He has been featured on Erol Alkan's playlist for weeks (with his LookLookLook track). His new song Flamingo is No 1 on Aeroplanes feb mix. He did big big remixes for Kitsune, Banggang and In Flagranti. And he plays everywhere with his infamous one man show: From Fabric London (with Aeroplane) to Modular parties in Sydney and Vice parties in Amsterdam. And he was on blogs everywhere with bis last Assassin EP.
Last week we put out the new EP "The Game Flamingo" and now here are the remixes for "Flamingo", the leading track. Mixes by Pete Herbert, In Flagranti, Rove Dogs, and Herr Styler.
"I love Goldenbug." Erol Alkan
"Great EP! Flamingo is Amazing." Stephen Aeroplane
"They sound great!" Eric Duncan (Still Going)
"I love the King of Kong" Etienne de Crecy
"Sounds really cool, remixes too, especially the In Flagranti one.." Joakim
Tracklist:


1) Club Mix


2) Pete Herbert Remix


3) In Flagranti Remix


4) Rove Dogs Remix


5) Herr Styler Remix

Golden Bug

,

Golden Bug Releases

,

Gomma Dance Tracks

,

Gomma Releases

. Tags:

Golden Bug

,

Herr Styler

,

In Flagranti

,

Pete Herbert

,

Rove Dogs

26.02.2010