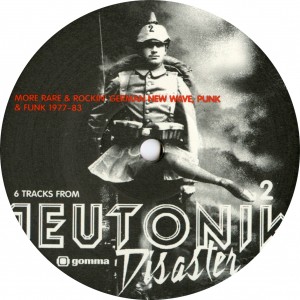 Release: 11 August 2003
Cat#: Gomma 034
The 2nd (and last) part of the TEUTONIK DISASTER – compilation: Obscure, unknown music from Germanys late 70ies & early 80ies New Wave/ Punk underground. Bands who tried to mix their sound with Funk & Disco influences in a own way. This music was not part of the famous NEUE DEUTSCHE WELLE – hype. It was made by guys who wanted to experiment with new stuff and existed besides the German NDW pop thing of these days. Some of them were really ahead of their time. All these recordings are extremly hard to find even in Germany.
This is the vinyl version with only 6 tracks. The CD version has 4 more tracks on it.
Tracklist:


A1) Starter – Part Of You


A2) XXX – Not On CD


A3) Nervösen Deutschen – Stukas Over Surrey


B1) Camilla Motor – Gefahr im Tivoli


B2) Roter Mund – Mit dir allein


B3) Instant Music – My Boy

Categories:

Gomma Releases

. Tags:

Camilla Motor

,

Instant Music

,

Nervösen Deutschen

,

Roter Mund

,

Starter

11.08.2003