[HOMEPAGE] [SOUNDCLOUD] [FACEBOOK] [BOOKING]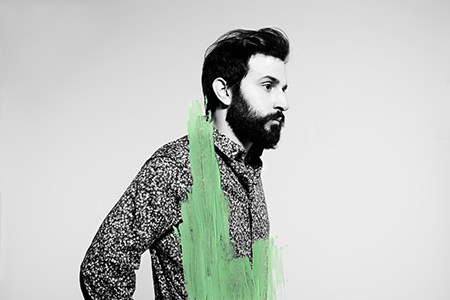 What would happen if you'd put some soul heros from Motown into the studio with – let's say – Daft Punk on summer holidays?
We think Luis Clara Gomes aka Moullinex is not far from that. The Portugal born, Lisbon and Munich living multi-instrumentalist and studio wizard has maybe found the perfect answer to last year's angry electronoise trend: he simply puts the soul back into electro.
But don't expect to hear another retro disco album. Moullinex debut album FLORA is many steps ahead of this slightly boring never ending fashion. Isn't it funny: while scandinavian and american DJ's have been trying to copy the old disco records from the south of Europe – the dudes from south Europe are trying to create new sounds with an futuristic edge. Avoiding the old clichés.
We guess the sound of FLORA couldn't have been made in the north of Europe. Listening to it you get the feeling to get the vibes of a near surf beach. Some sweet hippie girls dancing when the sun goes down. You smell a joint on a sailing boat, you hear the waves of the mediterranean sea.
Take Sunflare – the beautiful opener of the album. Isn't this like… Luther Vandross popping a pill and flying away in a space boat?
Listen to Darkest night: kind of a down tempo tropical blues jam with marimbas and a dramatic evolution. Or the first album single Take my pain away: a hi-octane disco number fueled by a chorus of of school kids. Made in the tradition of Munich disco hero Giorgio Moroder.
Don't forget – the arpeggiated basslines that you can hear in so many tracks of today's dance music were invented by Munich Disco maestro Giorgio Moroder in the late 70ies. And as Moullinex has this Munich connection, it was clear he wanted to do a hommage to The Munich disco sound. The sound that mixed pop references with electronic and dance elements. (Like Queen's Another one bites the dust, Donna Summer's I feel love – all produced by the Disco heads of Munich back in the days). You might not be wrong if you hear a certain similarity to productions of Luis' friends Aeroplane or The Magician – who work on a similar sound idea.
Luis is an obsessive autodidact – Recording in a small studio in Lisbon not far from the beach.. Although working with very lo-fi equipment, he creates a sound of ultimative fatness. Today's techno compression meets a sweetness that reminds of Curtis Mayfield, the harmonical complexity of the Beach Boys but also clever structures that make you think of David Lynch's sountracks by Angelo Badalamenti.
Vocals come in courtesy of himself and two girls: Rebeka and Da Chick.
There has been a big new wave of disco infected producers coming form the south of Europe in the past years. From Italy, Spain and yes, from Portugal. Many are connected to the Gomma label.
We don't know if this sound will be as big as Italo disco and Balearic music has been in the 1980ies. When the whole world was dancing to the sound of South Europe (and Munich). But there is a good chance. And there is a good chance that Luis Clara Gomes aka Moullinex will be one of the leaders of this futuristic – not retro – new sunny elecornic dance sound.