[HOMEPAGE]   [SOUNDCLOUD]   [FACEBOOK]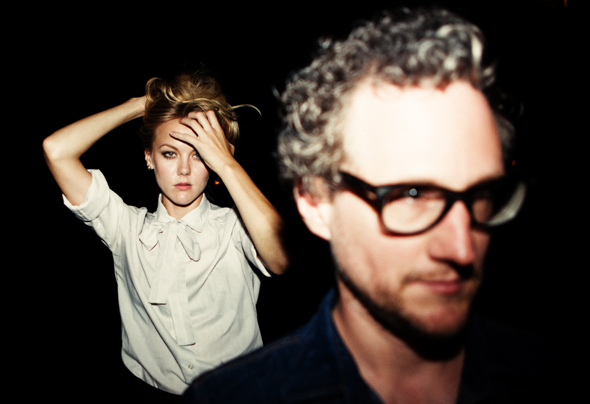 The seed to what became HOTLANE was unconsciously planted a long time ago on the disco floors of Berlins legendary nightlife.
Jack Tennis who had already made his name in the underground scene as a house and disco cat as well as producer of funky remixes was hanging out at the same bars and clubs as the new arrived Stockholmer Agnes Linn, who just started off as a DJ, model, illustrator and actress in her new hometown.
They became friends of the nightlife and without being aware of each other's music making home business, mutual friend Ingrid Kritscher – head of the iconic Broken Hearts Club – connected them since she knew Jack Tennis was looking for a female singer for some of his tunes. To Agnes it sounded more than tempting since she can't keep her fingers off trying out new things. After playing guitar and drums at younger age singing was quite new to her.
And sim salalabim, Agnes sent some sketches of melodies for each song and they decided to meet up and first then it became clear who the person behind the tracks and emails was. Which made everything even greater.
HOTLANE is not just a band but a mood and an experiment for the two main persons involved. Later on they involved more people after joining the label of cool, Gomma Records and gained fans from all over the world, featured on blogs in various languages, which makes them happy and sentimental in a very good way.
The music should be a soundtrack to peoples lives and make people wanna slowly move their hips or drive a car or fall in love or make sporty activities.
Even before HOTLANE celebrated their first birthday, they had live shows scheduled for Murkudis, Closed, Swergie together with Icona Pop, Villa Stuck, heyshops and with the single debut "On My Own" 2014 they gained support from well known DJs as James Curd, Theatre of Delays, DJ Steef, Ricardo Baez and top league designers as Elie Saab.
Inspiration comes from a combination of early 80s music and 70s disco, glamour, classic films, mellow photography, dramatic landscapes, old video material, bad album covers and awkward family photos.
It's also musically inspired by: Fleetwood Mac, Laid Back, James Murphy, Donna Summer, Diana Ross, Chromatics, Chromeo, Glass Candy, Nicholas
Jaar, scandinavian disco, french house, german techno, english pop, Breakbot, Aeroplane, The Revenge, etc