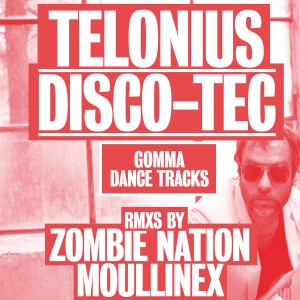 Release: 2 November 2009
Cat#: Gomma DT 005
With his project TELONIUS, Jonas Imbery is returning to his musical roots – early House & Disco Music. His inspired DJ-Sets convey a dense and rich musical texture, spanning from Frankie Knuckles' Warehouse inspired Retro House and Loft-style Disco music to brand new club productions. Never sounding stuck in the past, but with both feet firmly based in the current musical streams of electronic club sound, which also shows in the productions for TELONIUS.
His previous outing "Like What" held the German Club Charts Top Ten for weeks, and got amazing reactions by DJs worldwide.
The new single "Disco-Tec" comes with two banging remixes by Zombie Nation and Moullinex.
"I love the Dub Mix, super good one!" DJ Chloé
"Great filthy electro-house groove…. love it!!" Francois K
"Love It! Dub might be the one i would play the most." DJ Friction (Bodymovin)
"Great post-disco darkness here!" Bottin
"The Mike Monday remix is very good" DJ Chloé
"Loving this! Great spaced out disco." Mark Moore (S'Express)
"Love this, really strong.." Nick Warren
"Wicked groove, dig this" Jody Wisternoff (Way Out West)
"I Like..Do Play" Adam Sky
Tracklist:


A1) Vocal Mix


A2) Telonius & Manuel Kim Dub Mix


B1) Zombie Nation Remix


B2) Moullinex Remix

Gomma Dance Tracks

,

Manuel Kim

,

Singles

,

Telonius

,

Telonius Releases

. Tags:

Manuel Kim

,

Moullinex

,

Telonius

,

Zombie Nation

02.11.2009